Stephanie Kewistep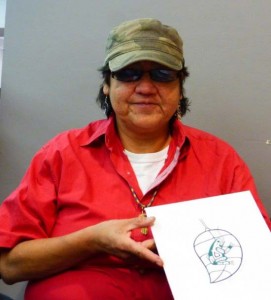 By Marylee Stephenson
www.indianartfromtheedge.com
Special to The Post
Heritage: Sauteaux
History: Stephanie Kewistep was born on the Yellow Quill Reserve. However, Kewistep's mother moved to Vancouver when the four children were very young and this has been home. Kewistep did not take up painting until adulthood. Her then-husband is a very talented Haida artist and she was both inspired and mentored by him. Stephanie Kewistep's work is a synthesis of various traditional Indian art styles – using modified versions of the ovals of the Haida traditions, the flowing lines of the Woodland style – and makes each piece her own.
Medium: She uses sturdy "art board" for her works which is donated from a local framing store.
Artistic philosophy: Stephanie Kewistep will see some wildlife form in its natural setting – birds, frogs, flowers — and then as she says, "do my own interpretation."
Female Aboriginal artists carving or painting in public are a rare sight. Stephanie Kewistep is one of these artists. Years ago, the owner/curator of the online art gallery, Indian Art From The Edge, Marylee Stephenson, bought two of Stephanie's pieces from another artist. But Stephenson couldn't connect with Kewistep directly, so she started asking other street artists who Stephanie Kewistep was and where she might be – with no success. Then just a few weeks ago, as Stephenson was walking in the Downtown Eastside, to meet one of the Indian Art carvers – she saw Kewistep sitting on a bench beside him, creating a beautiful picture of a hummingbird. She had just completed a small portrait of a loon, the bird that our "loonie" coin is named after. It was snapped up for the gallery.