Scheherazaad Cooper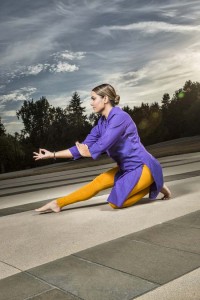 Occupation and/or Company: Performer/Choreographer
Years of experience: 27 years
Personal & professional philosophy:
I aspire—through research, teaching, and performance— to engage a new generation of scholars, performers, and spectators to approach performance as social phenomena. Not only because it takes place in and through society, but because performance is responsible for impacting and shaping society.
Upcoming performances/project:
Dances for a Small Stage 32 at the Anza Club, Oct 20-23, 2015
What is the highlight of your work?
Dayna Szyndrowski and I have created a piece, Jugalbandi, that explores how kinetic energy and rhythm are expressed in Flamenco and Odissi classical Indian dance. We explore how these traditions create space with rhythms made by the feet – in flamenco, with shoes and in Odissi, with ghungroo (ankle bells). We've made that space more deliberately visible, in this piece, with a beautiful set inspired by the artist Juan Hidalgo's installation 'Lanas'.
Future goals:
Scheherazaad participates in creative collaborations experimenting with, creating work, and training in other performance modes. Entertainment is only a symptom of performance and the capacity for performing arts to develop sensitized and engaged communities is an area of practice and research she is proud to be a part of.