Malinda Dawson and Allan Taylor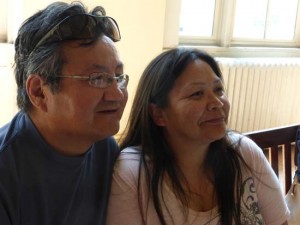 Heritage: Malinda is of the Kwanlin Dun First Nation while Allan is both Han and Kaska
Occupation: Heavy equipment operation and social services
By Florence Hwang
Special to The Post
Both artists have lived most of their lives in Yukon. When employment opportunities slowed down, they recently moved to Vancouver. They have family ties here. They are busy looking for work while creating their distinctive beadwork, particularly dream-catchers.
Dawson and Taylor were commissioned by the on-line gallery, Indian Art From the Edge (www.indianartfromtheedge.com) to produce spirit hoops/dream catchers using the rainbow colours, symbolizing the Pride for LGBTQ community. Some of these creations were worn by the community members and their allies for various events in the Lower Mainland.
Traditionally, beadwork and craft is for women, but Allan has joined in the beadwork to spend quality time with Dawson. The two artists create authentic "spirit hoops" or dream catchers in the colours of the forest and of the ocean and sun, to reflect the importance of the land and sea in their own heritage.