Maki Yi and Natalie Tin Yin Gan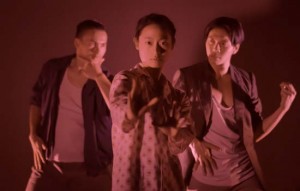 Maki Yi
Maki Yi is a Vancouver-based artist who writes, performs, and produces theatre works, often autobiographic solo shows.
She received her BFA in Theatre Performance from University of Regina and MFA in Interdisciplinary Studies from Simon Fraser University. She has been creating & collaborating performance-based interdisciplinary projects since 2010 when she became a permanent resident of Canada.
Ethnicity: Chinese
Occupation: Theatre artist
Years of experience: 5 years
Next performance:
Weaver Woman is a translational collaboration of multi-layered disciplines and cultures. The creation is based on a Korean short story, written by a remarkable female writer in Korean literature. As a native Korean, Maki bridges the original language and culture in the artistic translation process – a rare journey to follow the transformation from literature of a particular culture to multidisciplinary art enriched by cultural pluralism.
Highlight of her performance:
Her practice focuses on multi-lingual text and inter/cross-cultural performance. As a new Canadian whose native language is neither English nor French, her works carry 'other-ness' for Canadian audience. But in her other-ness, Maki wishes people to see something communal, somewhat resembling their life, sharing fundamental questions. She believes that universality lies in individuality. Maki hopes that her theatre becomes a space where voices of the marginalized could be heard and understood.
Future goals as artist:
For Maki, Canadian demography provides endless possibility for exploring and developing multi-lingual, cross-cultural works. She dreams a theatre of acceptance where many differences manifest, with mutual respect, and without fear of discrimination.
Natalie Tin Yin Gan
Age: 26
Ethnicity: Chinese
Occupation and/or Company: Co-Artistic Director of Hong Kong Exile, choreographer
Years of experience: in dance: 19
In choreography: 7
In HKX: 3
Personal & professional philosophy:
Hong Kong Exile aims to contribute to a thriving, diverse and critical arts community. Through work that provokes discourse and new perspectives, we advocate for arts' importance and its relevance in society.
Upcoming performances/ project:
Hong Kong Exile just returned from the Seattle International Dance Festival to present "NINEEIGHT" and will be in- residence at Gateway Theatre in August to develop the full-length iteration. I'm also about to re-work "Our Gestures Are No Longer Ours", a duet with local dance artist Francesca Frewer that was recently presented at the Dance Centre.
What is the highlight of your work? I'm not sure what this is asking!
Future goals:
Tour personal and company work internationally.