David Gonzales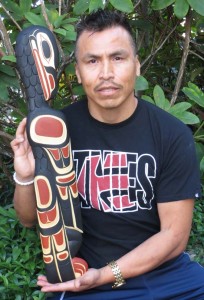 By Marylee Stephenson
www.indianartfromtheedge.com
Special to The Post
David Gonzales, 40, is a member of the Squamish Nation, and lives on the North Shore of Vancouver.
An artist since childhood, David attended a school for Aboriginal children, which had a curriculum focused on Aboriginal culture, history, and language."All the teaching was in our language – and I'd drawn a picture of a bear and the teacher told me the name for 'bear.' It was such a powerful connection for me that I went to the library and looked up every art book I could find about our people and our art."He studied every picture of every animal, drawing them over and over, and learning the Northwest Coast style that he has turned into carvings and paintings every day of his life.
"When I was a kid, I was crazy about colour, about those Crayolas we had, all the kids love colour.But after awhile I learned to balance them out, not to have one colour take over from everything else."This is true for his carvings or his paintings.
David works out of a basement suite for smaller pieces, but he is in frequent contact with other artists and with friends who supply him with the red and yellow cedar chunks that he can work with.If he has to, he buys blocks from lumber supply stores, but he particularly loves finding or receiving wood that has a personal link to him through friends and family.
David's subject matter is always a form from nature, but with a strong connection to the human spirit. His carving of an owl is called Spirit Lifter, because the owl uses its wings to help raise up to the Creator the spirit of a person who has just died. He creates substantial carvings of frogs, ravens, eagles, and whales, all of them possessing spirits that they can share with humans, with each protecting and cherishing the other.
His paintings and limited prints are often dramatic, ethereal connections to the sun or the moon.
Davidis working intensively on building his reputation, and recently digitized his prints.He makes a very limited number of each piece to ensure their value will be maintained over time.His carvings are found in stores and galleries around Vancouver, and he has a strong working relationship with the curator of the on-line gallery, www.indianartfromtheedge.com. This gallery specializes in art from Aboriginal artists who have experienced considerable difficulties in their lives, but who have continued to create beautiful, distinctive pieces of art, reflecting their cultural heritage and their pride in it.