Contemporary dance fest in Vancouver
The 2014 Dancing on the Edge reveals a broad range of exciting contemporary dance percolating in Vancouver and across Canada. From July 3 – 12, the 26th annual festival features over 30 different choreographies from more than 70 dance artists over 10 jam-packed days of dance. Learn more at www.dancingontheedge.org.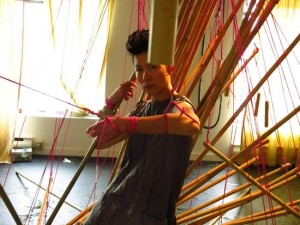 Lee Su-Feh
Age: 49
Ethnicity: Chinese, Malaysian-born
Occupation and/or Company: Dancer, Choreographer, Artistic Director of battery opera performance
Years of experience: 49
Next Performance: June 14, 2014 Canada Dance Festival, Ottawa; July 8 – 12, 2014Dancing on the Edge (Dance Machine Installation); and August 29, 2014 Tanzmesse, Dusseldorf
What is the highlight of your performance? Dance Machine
Future goals as an Artist: Make good art.
Learn more at www.batteryopera.com.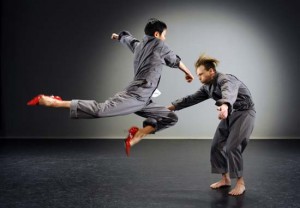 Photo credit Chris Randle
Ziyian Kwan
Age: 45
Ethnicity: Chinese/Filipino
Contemporary Dance Artist
Name of company: Dumb Instrument Dance
Years of professional experience: 26
Next Performance: After the Vancouver premiere of"a slow awkward"at Dancing On The Edge, Ziyian looks forward to creating a new work for EDAM's Choreographic Series fromNov 9-19, 2014. Ziyian will be joined by Vancouver dance artists Barbara Bourget, Vanessa Goodman and James Gnam to research, create and perform a piece. Together, they will work towards a group piece with the working title, "Goldilocks and the 3 Chairs."
Immediately after Dancing On The Edge, Ziyian embarks on a new project with colleagues Anne Cooper and Ron Stewart to commission Josh Martin and Tedd Robinson for a full evening show to be presented by the Firehall Arts Centre in 2014. Further into the future, Ziyian will be touring her solo creation,"the neck to fall"to Montreal.
Highlights of Performance: "a slow awkward"is a kinetically charged collision of opposing energies, a dance for a man and a woman that reflects on the duet of feminine and masculine that exists within. Choreographed by Ziyian Kwan, and created and performed in collaboration with James Gnam, Dylan Van Der Schyff, Peggy Lee and James Proudfoot,"a slow awkward"exposes the violence and vulnerability, to the process of individuation.
Expect a physically charged and dynamic duet that expresses the choreographer's unique aesthetic, supported by collaborative input by some of Vancouver's eminent sound, light and dance artists.
Future goals as an artist: I don't set up goals for the future but what drives me to be an artist is much the same as it has been for the past three decades. The events and contexts change but at the root of my inspiration, is the desire to attend creative urges within and to be open and in dialogue with the external stimulus that I am blessed to encounter every day. And of course, to dance and make dance.
Learn more at  www.dumbinstrumentdance.com